muuto nerd bar stool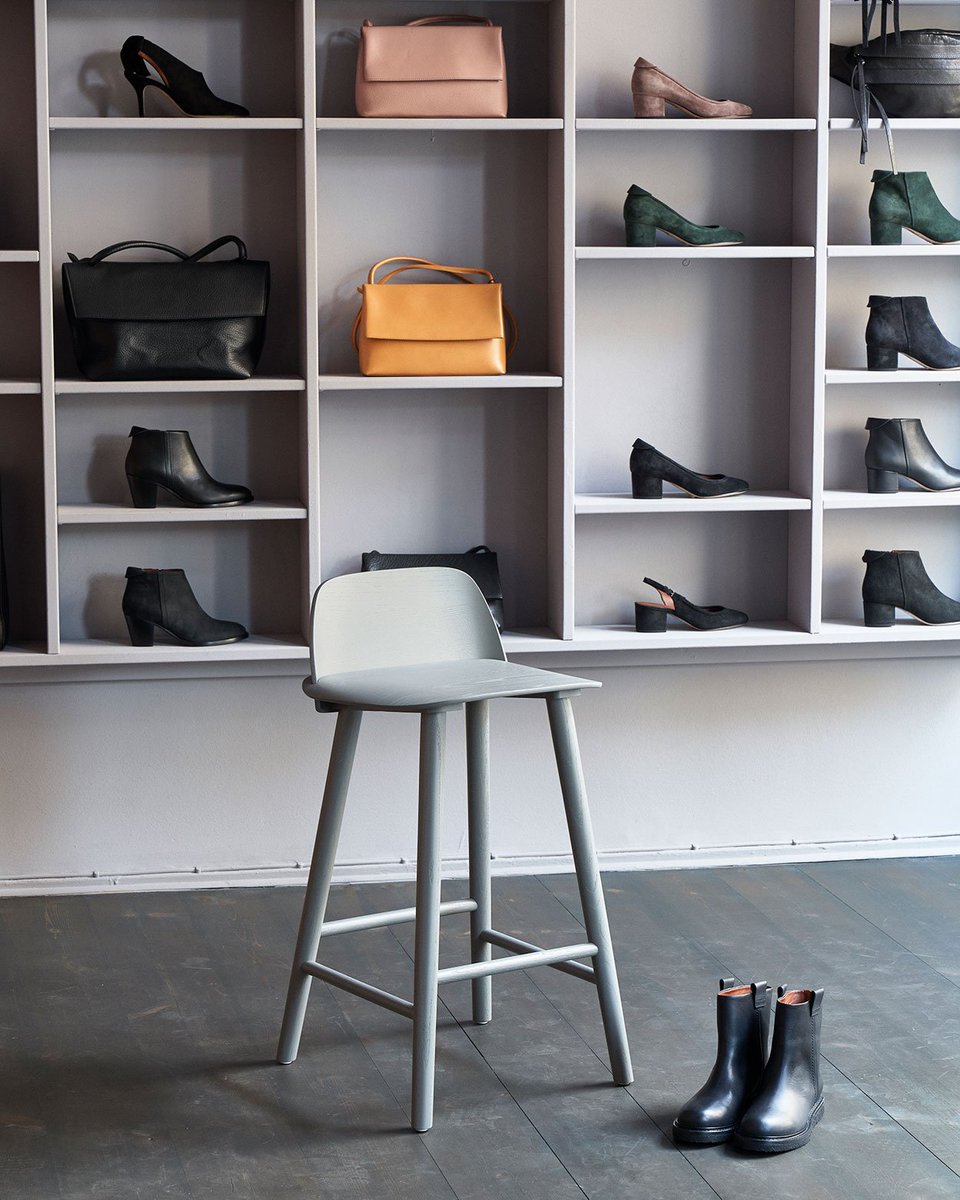 Habitat Baja lamp 68, oo eur

Muuto, Nerd chair

Pill organizer

Maka Chair by DENOE design
Classic creations can be charming, but those that bear the imprint of their maker are all the more special. Barcelona-based studio DENOE design creates furniture that discloses its multi-faceted and gradual development process with dynamic aesthetics. The MAKA Chair in plywood and plastic-coated polyester reinvents the classic hammock for a relaxed addition to any room of the house, sure to inspire memories of sun-soaked afternoons. Functional, decorative, and full of personality.
65 cm Nuus Lamp by DENOE design
The handmade NUUS Lamp in beech wood and fabric takes its name from the Catalan word for knot and transforms a straightforward idea into an innovative lighting design.
Sisauu Wood Pendant Lamp by DENOE design
The handmade SISAUU Pendant Lamp is incredibly versatile—hang it on the wall or ceiling, make it short or long, cable artistically wrapped or just hooked over, the permutations are manifold. Functional, decorative, and full of personality.
02 Mimmo Aeroplane Toy by Playforever
Automobiles inspire a particular passion, one that usually begins in childhood. This is especially true for industrial designer Julian Meagher, who creates toy vehicles in collaboration with fellow designer Cameron Treeby for their aptly named label Playforever. The label's 202 Mimmo Aeroplane Toy is made from ABS plastic, coated with a high-gloss UV layer, and polished by hand for a flawless finish—a sterling homage to a classic that's suitable for young and old alike.
Speedy Le Mans Toy Car by Playforever

Bruno Racing Car Toy by Playforever

Bruno Racing Car Toy by Playforever

Bonnie Toy Car by Playforever

Buck Roddie Toy Car by Playforever

Clyde Midnight Toy Car by Playforever

Rain Humidifier by BALMUDA
Bringing form to fresh air, Japanese label BALMUDA has created the Rain humidifier: a tankless air expert equipped with a digital display to keep track of its water level, current mode, and the room's humidity—all regulated by a control ring on its rim. Shaped like a traditional Japanese vase, the Rain blends sensuously into any room. Its water basin can be removed to clean, but chalk and minerals won't cling and an enzyme filter keeps bacteria away. Rounding out all those tech smarts and health benefits with a note of true innovation, the Rain humidifier took home a Red Dot Design Award in 2014—marking it as a true master of air and design.
Selina Hygrometer by Matti Walker for Stadler Form
Burdened by bad odours, dust particles or bacteria, the gallop of creative thinking gets slowed down to a heavy trot. While you not might not be able to control outside influences, you can at least take charge of the climate in your home or office. Created by Swiss designer Matti Walker, the Selina Hygrometer makes it easier than ever before to keep the great indoors exactly as you like it. The Selina precisely measures humidity levels and the temperature, no matter if it's -10°C or +50°C. Armed with a humidifier and your trusty radiator, the perfect indoor atmosphere is yours.
Aroma Diffuser by Stadler Form
On average, residents of the Northern Hemisphere spend a lot of hours indoors. Since you'll never be able to control the weather outside, it's time to take charge of designing the climate inside your home and office. Created by Swiss designer Fabian Zimmerli for Stadler Form, the Jasmine Aroma Diffuser makes it easier than ever before to keep the great indoors exactly as you like it. Sleek and intuitive, the Jasmine diffuses your favourite scent on constant or interval settings for up to 24 hours on a single filling. With this Housewares Design Award 2013 winner, the perfect indoor atmosphere is yours.
Air Purifier by ±0
From the deep humidity of the summer months to the stale dryness of the wintertime, creating the perfect indoor climate is a balancing act. Designed by Naoto Fukasawa for Japanese label ± 0, this innovative air purifier reflects a healthy devotion to the tenets of minimalistic design. The air purifier's HEPA filter silently pulls air into its metal body, cleansing it of impurities before returning it to the room through a trumpet-shaped opening. Easy to operate and fitted with 5 settings, ± 0's purifier lends a contemporary design accent to healthy living spaces. Breathe free, indoors and out.
GreenFan – Air Circulator by BALMUDA
Japanese label BALMUDA's GreenFans are so silent, you may not be able to hear them run from across the room. Combining sleek aesthetics with exceptional technology, the GreenFan Air Circulator can be rotated up to 90° to powerfully move air up to 15 metres throughout your space. Ideal for reducing humidity and regulating indoor temperatures even in the winter, the GreenFan Air Circulator uses a two-part blade construction to replicate the air movement of a natural breeze—that is, a remote control operated breeze that's about as silent as a lightbulb and requires so little power you'll be saving the forest, too.
11+ Bottle Humidifier by 11+
Korean design studio 11+ creates to make life easier, and the label's Bottle Humidifier is the perfect representation of this philosophy at work. Every detail is considered with the utmost attention—from the the handy USB power connection to the dynamic form, which slides elegantly onto desktops and bedside tables for much-needed hydration. Doing away with complicated additional features, this humidifier provides exactly what we need in terms of aesthetics and well-being—no more and no less.
Arzberg
Avvitamenti furniture collection by Carlo Contin for subalterno1
Cablox
Cablox is a grid of small rubber pegs that organizes your cables any way you want that comes in a boxed 2-pack. Not only can you make those unsightly ugly cable piles go bye bye, you can also route them in different directions giving your keyboard and mouse cable just enough slack to stay comfortable.
With its adhesive back, Cablox can be installed on most surfaces in seconds. Designed in Denmark, the patented Cablox Cable Organizer fastens and bundles cables of almost any type and size.
Chaise Hay