More from Garden Glory as seen here
https://ombiaombia.wordpress.com/2017/12/15/design-383/
Garden Glory Plant pot  monkey face
This sculpture like "chimpanzee-officer" is made entirely of terracotta and painted with black terracotta paint. The twisted gold cord in the cap and the brass buttons that keep th record in place are an elegant touch. The icing on the cake is the brass canine tooth.
The pot comes with a stylish bag containing a brush and black paint to improve the finish if necessary as the years go by.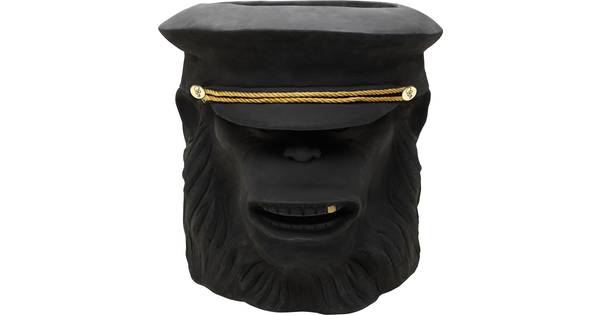 Cool. Stylish. Unique. Handmade pots help you express your own unique style with a roar. They come in big and small versions, and in black or white.
 These one-of-a-kind, sculpture-like pots in a black finish are made of terracotta and feature an ear piercing made of brass with the Garden Glory logo on it.
Spade
Once you've gotten your hands on this precious little gem, you'll never want to let it go.
 The diamond spade isn't just beautiful; it's functional as well, with a handle that comes in a range of colors. And after you've used it, just leave it in the pot like a piece of jewelry.  The diamond spades have blades in solid brass.
hay rope trick lamp

Pluto Produkter
Pluto Produkter is a Swedish Company which designs, produces and sells home accessories, gift items and Christmas decorations. The unique and typical Pluto design, a Scandinavian style, combines traditional shapes and thinking with a new modern look.
Pluto introduced its first products to the market at Formex, Scandinavia´s biggest design fair. The success was immediate. Pluto got a lot of attention in the press and the products were introduced in stores in Sweden and Scandinavia.
The Pluto collection consists of candleholders, hangers, Christmas decorations, napkin holders, napkins and magnets, just to mention a small part. At least two new collections are introduced each year and the company is in constant development
Bird Gold Small Ceramic Container, 10 eur
Bird Large White Ceramic Container, 18 eur

Bird White Bottle Stopper
Ceramic Gold Bird Decoration

Copper Flower Star Decoration

Deer White Wall Tealight Holder

Dodgy Cat Rotary Candle Holder

Numbers Metal Candle Decoration

Star Ceramic Candle Holder

Star White Bottle Stopper