Gandia Blasco TIPI
Wigwam by José A. Gandía-Blasco
"Good design speaks for itself all over the world, regardless of where it is from. Tipi was inspired by the traditional North America wigwams and by the spirit of outdoor life." José A. Gandia-Blasco
Tipi pequeño is a designer tipi made from anodized aluminium and plastic sheets that can be customized in a wide range of textures and colours. Its interior space is covered with a polyurethane foam filled mini-mattress and cushions which are available in different finishes: sand, white, charcoal, dark pink, black, emerald green and more.
It is the natural extension of any outdoor space. Combine it to create your own oasis on the terrace of your home, at the beach or in the lounge areas of large contract projects.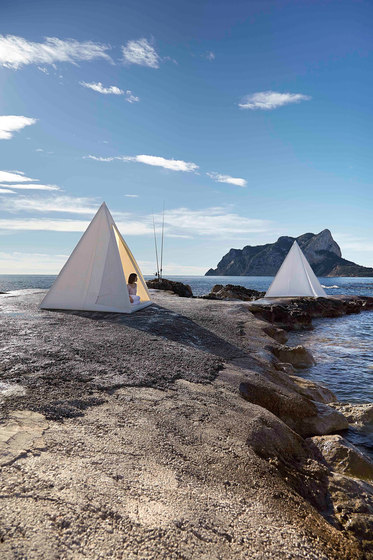 Bread stamp
TourDeFork tried to reinterpret the symbolism and historical meaning of the Bread Stamp, by redesigning this ancient instrument using contemporary technology.
Up until the beginning of the 20th Century, before homes had kitchens as we know them today people would bake their home made bread in communal ovens. These ovens played an important role in the social life of all local communities, people would meet to bake, gossip and exchange recipes. In order to recognize each other's loaf among the many being baked, each family would stamp or mark their loaves. It was traditional for each loaf to be marked with the initials of a family house hold and each generation would have their own Bread Stamp.