P U N T C A R A F E
Two Create took inspiration from the 'punt', the concave base at the bottom of a glass bottle traditionally used to add structure and stability.
The carafe uses a punt in both bottle and glass. It has an additional use for the punt, stabilising the upturned glass on top of the bottle neck.
The Punt carafe is hand-blown in smoke-grey sodalime glass.
My Menu carafe died at the last cheerful dinner party
and now I see nice bottles everywhere.
Stylies Aquarius air purifier – Aquarius Filterless Humidifier/Air Washer by Stylies with touch screen control panel, digital display & self cleaning mode
Modern filterless humidifier suitable for rooms up to 50m²/125m³. Humidity output of up to 300g/h with a humidity select between 40-75%. Touch screen control panel with digital display and 4 fan speeds. Special self cleaning function and fragrance tray. Design The Aquarius is a filterless humidifier with a unique circular design. Aquarius has a quiet operation at less than 25 decibels and is simple to use. How it works: Aquarius washes the air by pulling it through wet discs. Particles that are contained in the airflow will be trapped and stuck to the wet discs; they are then washed off in the water basin and remain at the bottom of the water tray. This humidifier is a combination of humidifier and air purifier and is suitable for removing pollen, dust and other particles from the air. The air leaving the humidifier will therefore be fresh, clean and optimally humidified. A touch screen digital display allows you to set the room humidity you wish to maintain and once set the display will revert back to the current room humidity. It has 3 different modes of operation, auto, night and clean and 4 fan speeds. A fragrance box allows for you to add favourite essential oil to be dispersed into the room, a self cleaning mode makes cleaning the discs simple and easy to do. Simply fill the tray with a descaling agent and clean water; turn the humidifier on to the clean mode and let it run until the limescale has dissolved. To help keep the water clean this humidifier uses an Ionic Silver Cube. This cube releases silver ions into the water which can help stop the build up of bacteria and fungi.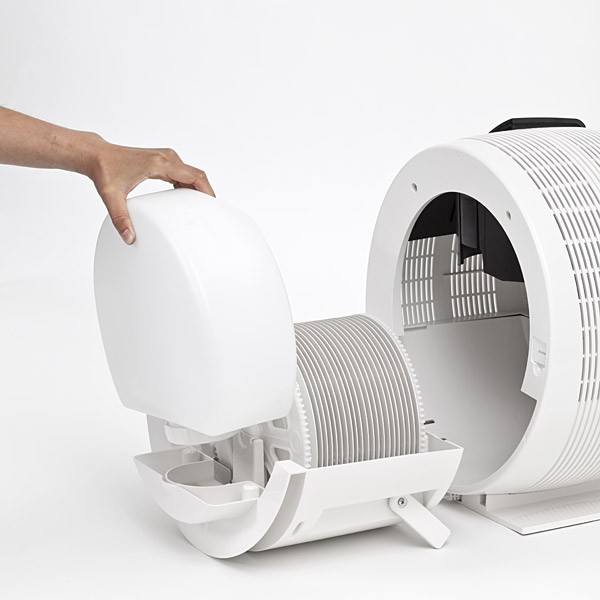 http://www.ccp-jp.com/life/sweeplus/
Twist Whisk by Joseph Joseph

Philips Design – Nebulizing drug delivery
The Wireless #iHealth Pulse Oximeter is a reliable way to spot-check blood oxygen saturation (SpO2) and pulse rate (BPM).
Philips Fidelio SoundSphere