Exilis Shelf by Nonuform
Swedish heritage label Nonuform's sleek aluminium shelves carry a graceful elegance while creating discreet, minimalistic storage and display space. With a thickness of only 2.5 millimetres, the shelves add to an airy atmosphere, seemingly floating above their concealed mounting supports. Despite the lightness of each piece, their exceptional Swedish design makes them sturdy enough to hold books and objects securely, and the shelves can be installed in any combination to fit the décor of the room. With such impressive design, it's no surprise that these shelves were awarded the Red Dot Design Award.
Chair One by Konstantin Grcic for Magis
Between a person and an object, something is bound to happen. This was never more true than in the case of the chair. One of the pillars of modern German design, Konstantin Grcic has turned his decidedly minimal tendencies into durable, functional pieces since establishing his Munich studio in 1991. The Chair One is an angular celebration of material, process, and millennial aesthetics. Designed in 2003 for Italian label Magis, the chair's painted aluminium construction is easily stacked and moves effortlessly between indoor and outdoor use. A pared-down sculptural feat, the Chair One is at once a perfect reflection of its time and a welcoming interior object waiting for you to complete its story.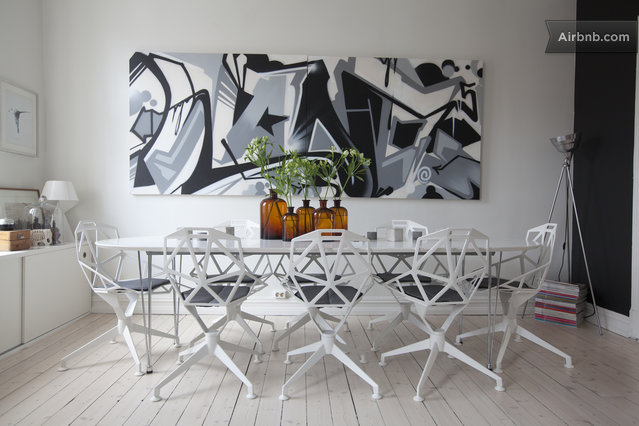 Plié Wall Light by Fambuena
The perfect lighting is intangible, and undeniably romantic. Refracting ideas for illumination through a prism of like-minded design since 2005, Spanish label Fambuena works with a team of designers to realise a vision of youthful ambience and pure emotion. Estudio Vitale's Plié Collection folds this atmospheric aesthetic and the language of objects into architecturally formed aluminium. Elegantly stylised, the geometric asymmetry of the Plié Wall Light is fitted with an energy-saving LED lightbulb to radiate simplicity and glow with material romance.
Ceramic Flask by Misc. Goods Co
A life well lived is a life full of gambles. When Louisville-based graphic designer Tyler Deeb decided to set up shop on his own, he encountered a predicament familiar to many new freelancers: the workload dry spell. Instead of staying idle, Tyler started designing a deck of playing cards, a project that took on a life of its own and became the foundation of his label Misc. Goods Co. The Ceramic Flask is made in the USA from quarter inch slip cast ceramic finished off with a brass, leather, and cork closure. This beautiful piece is a reminder to keep your gambling spirit alive—whether at the kitchen table or in the meeting room.